Section-A
MUET Online Classes
Dated. 7th March 2020
Dear student,
As you are aware, due to the ongoing pandemic (COVID19) all educational institutes had to close for you and your family's safety. HEC has decided that all universities move their classes ONLINE.
Mehran University has selected the online communications platform of Microsoft Teams to move our classes ONLINE. It enables teachers and students to collaborate and communicate through online/offline videos and by sharing class contents, conduct assignments and tests/quizzes.
Section-B
Quick Video Tutorials for students
(duration: approx. 2min each)
Teams for Education Intro
https://www.youtube.com/watch?v=28vnu0LbYR4
2. Signing into Microsoft Teams for the first time
https://www.youtube.com/watch?v=qx8xHpRMFHU
3. Working with classes and classmates in Microsoft Teams
https://www.youtube.com/watch?v=5yT1K34RJo4
4. Connecting with Microsoft Teams
https://www.youtube.com/watch?v=PasT3Q1ZR_I
5. Organize schoolwork with Microsoft Teams
https://www.youtube.com/watch?v=knOp1wT84x8
Section-C
Welcome to Microsoft Teams!
In the following few pages, we will describe and show you the main features of the platform and how to work in it.
Teams can be access via web browser or dedicated application can be downloaded on Windows or Apple computers. There are mobile applications for Android, iOS and Windows platforms available to download too. Click on the following link to download the app.
https://www.microsoft.com/en-us/microsoft-365/microsoft-teams/download-app
(1) Microsoft Teams
Open any internet browser (e.g. Google Chrome, Microsoft Edge or Apple Safari) and Go to office.com and then click on Teams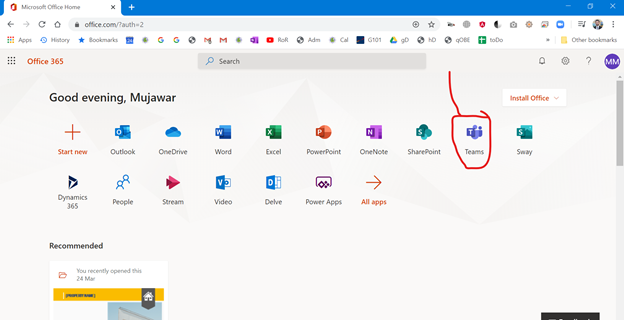 OR
Go to teams.microsoft.com
(2) Login Screen
Sign in with your MUET student email ID (e.g. [email protected])
(3) 'Stay Signed In' Prompt
You will be prompted to 'Stay Signed In'. We recommend you select 'No' if others use this computer. If you are the only person who uses this machine, you may select 'Yes'. This will result in quicker login/access to your stuff.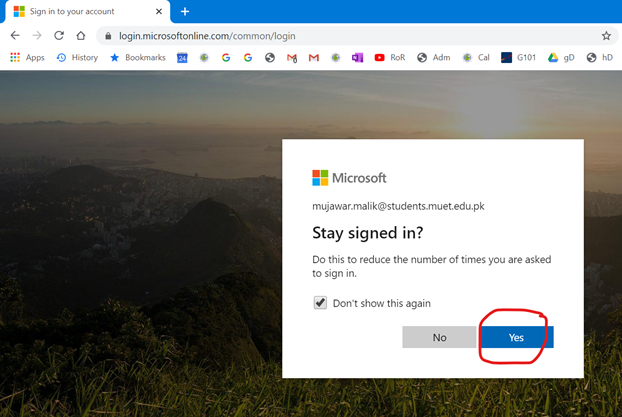 Now, you will be logged into Microsoft Teams for Education with your courses displayed under the Teams tab.
Section-D
Microsoft Teams for Education is a Learning Management System built around Microsoft Office365.
It enables teachers to create virtual (online) classrooms to deliver online lectures to students. These lectures can be recorded and can be played later by the students.
Teachers can set assignments for the students via the Assignments tab. Students can solve the assignments and then turn them in. The teacher will mark them and students will be notified.
Teachers can create tests/quizzes for students to take.
Teachers and students can view the grades of the students via the Grades tab.
Teams Tiles:
When Teams start, it will show you the courses you are enrolled in. On the left border of the application, there are several tiles such as Activity, Chat, Teams, Assignments, Calendar, Files, etc.
This is the Activity Feed area. All activities are recorded here. You can search for anything you may have missed here. Activities can be filtered to My Activities or Feed or parameters such as Unread, Replies, Reactions, etc.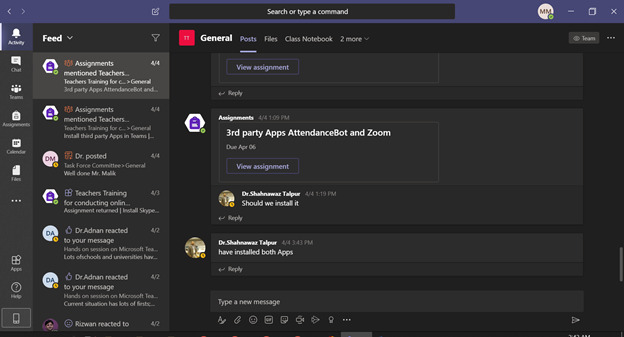 All your chats and contacts are displayed here. You can filter the chat messages on the basis of Unread, Meetings, Muted, or matching any keyword.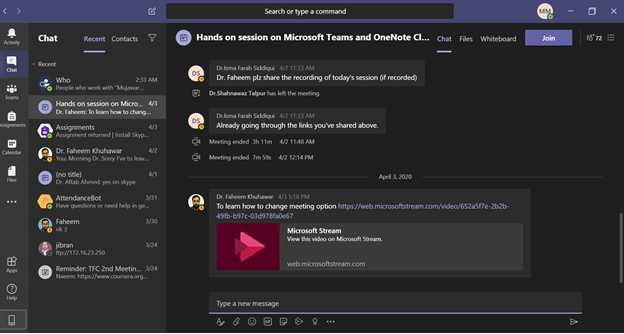 Under Teams window, you can either display all the Teams or Join/Create a new team. Under a Class Team, tabs for Posts, Files, Class Notebook, Assignments, and Grades appear.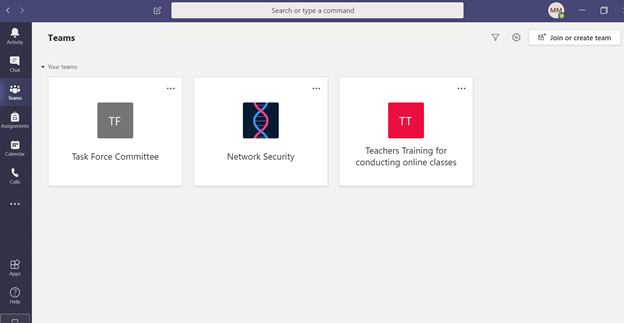 If your Teams view were set to List, the Teams would be displayed as below: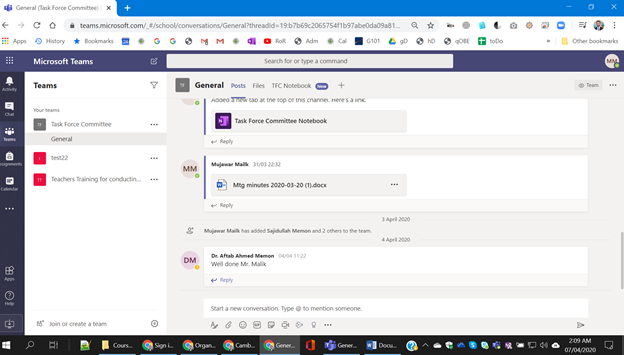 All assignments, current or completed, are displayed here.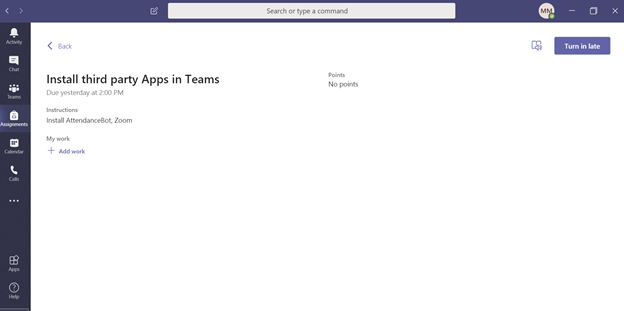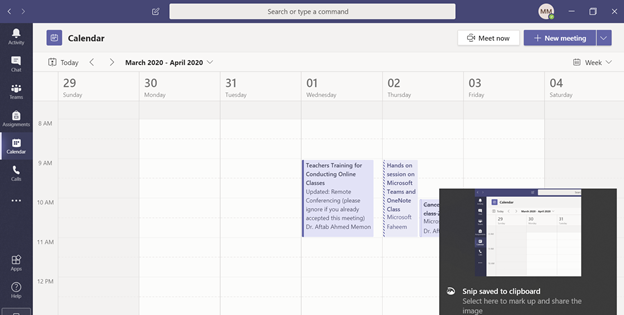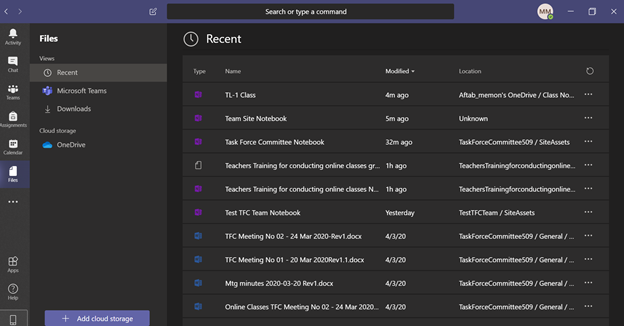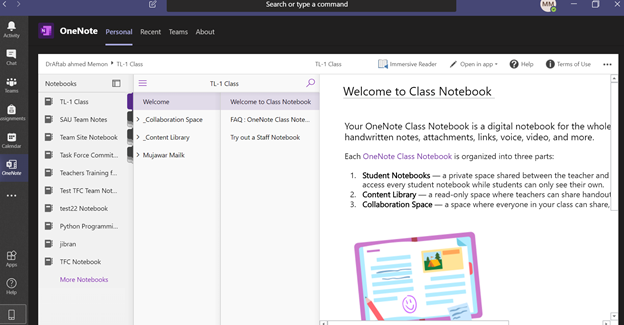 All your recording lectures/videos will be available here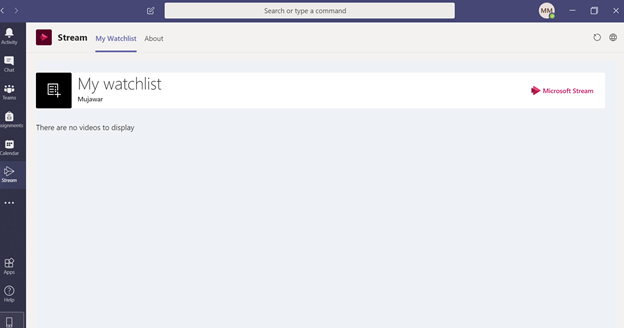 This takes you to an internal market place for Teams applications which can be installed to add more features in the Microsoft Teams ecosystem.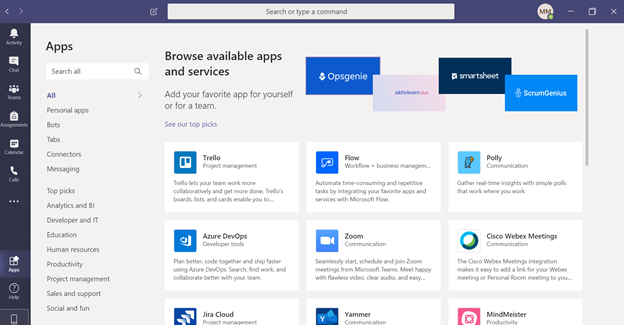 Section-E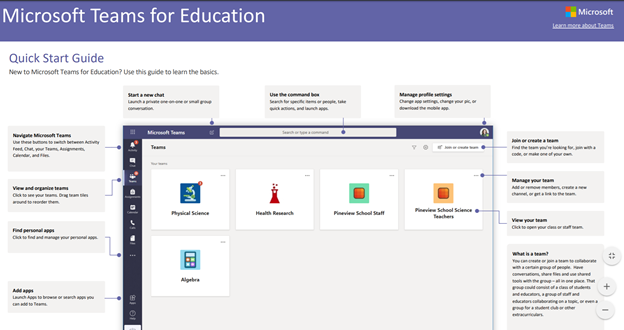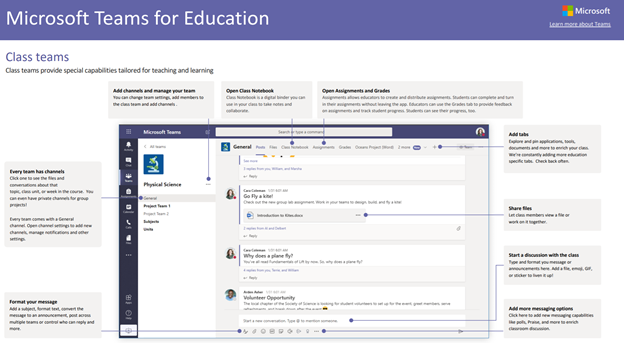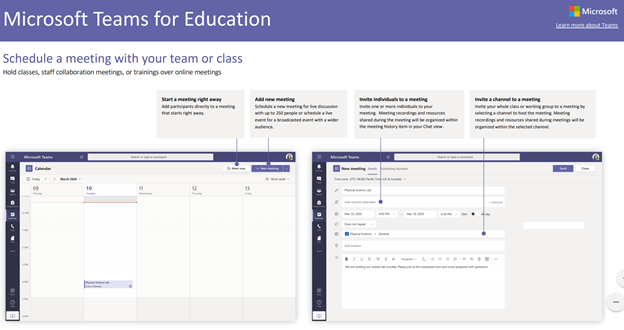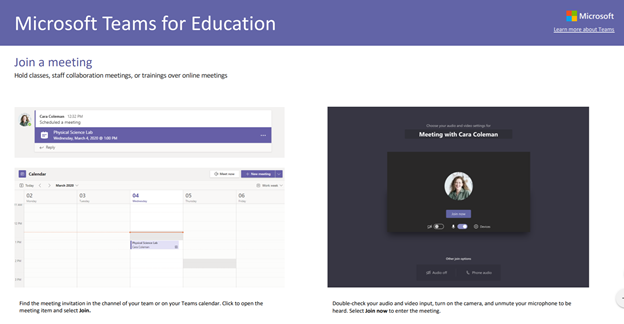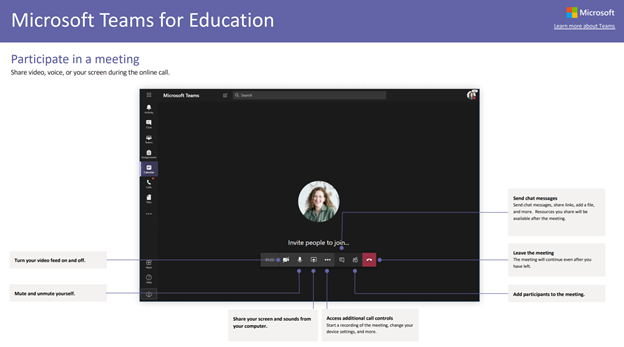 Section-FF
1. Get started in your class team
Access your online classroom in Office 365 Education and Microsoft Teams.
Grab your device and your MUET sign-in information and head into class at Office.com.
Sign in to Teams
Open Office.com and sign in with your school email and password.
From your Office.com homepage, click on the Teams app to open right in your browser.
Select Teams  in to see which class teams you're in.  If your teacher has already set up the class team and added you, you'll see one or more (depending on how many classes you have) class team tiles. 
Notes: Don't see any class team tiles? Your teacher may have invited you to join your class team with:
A join code (from the Teams page, select Join or create a team and enter the code)
A link (check your email!)
When you see your class tiles, click on one to start connecting with your teacher and classmates!
2. Get organized in your class team
Find and organize conversations, files, assignments, and notes in your class teams.
Channels
Every class team has the main discussion area, the General channel. Under General, Your teacher may create more channels to organize topics, projects, and more. 
All channels include a Posts and a Files tab.
The Posts tab is where you, your classmates, and your teacher can all start and reply to conversations.
Look for shared documents in the Files tab.
Along with Posts and Files tabs, the General channel has Assignments, Class Notebook, and Grade's tabs.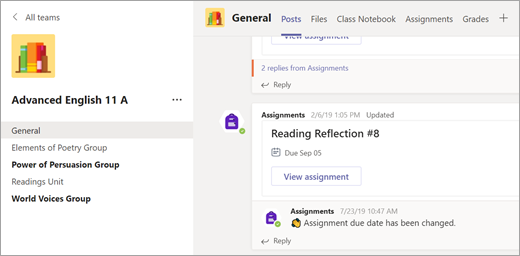 Notifications
Check the Activity section to make sure you don't miss a new assignment or an @mention.
3. Communicate in your class team
Create and respond to messages in Teams.
Create and send a message in a chat or channel
Click the compose box to create a message. You can type out a simple message, or add on.
Attach an image, gif, sticker, or file
Use rich text to make your message stand out
Format your message with bullets or make a numbered list
@mention your teacher or a classmate. 
To switch from a conversation in a team channel to a private chat group, select the Chat icon.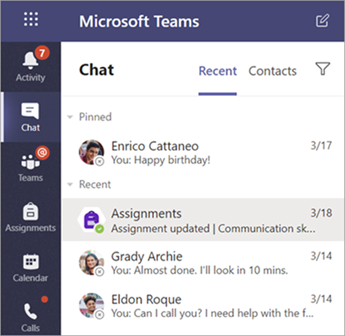 4. Share and organize class team files
Share files in conversations and use the Files tab to keep track of them.
Share a file in a channel or chat
Click Attach.
Choose a file you'd like you share.
Include a message if you want, then click Send  .
Find or create a file
See the files that you, your classmates, and teacher have shared in one of your team's channels by selecting the Files tab.
While in Files, you can create a new Word, Excel, or PowerPoint document for you and your classmates to collaborate in.
Class Materials
In the Files tab, your teacher might add read-only resources to the Class Materials folder. Look here for important documents that can help you with assignments, projects, or just staying up to date on class expectations.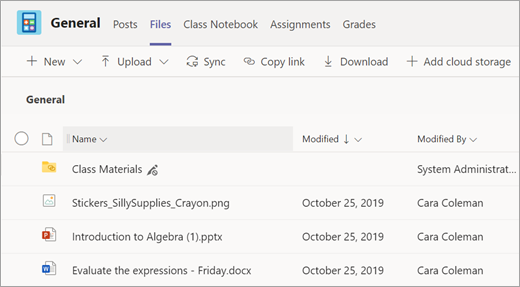 5. Assignments and grades in your class team
Create assignments, grade, or turn in your work. All from Teams.
View and turn in assignments
Head to a class team and the General channel. Select the Assignments tab.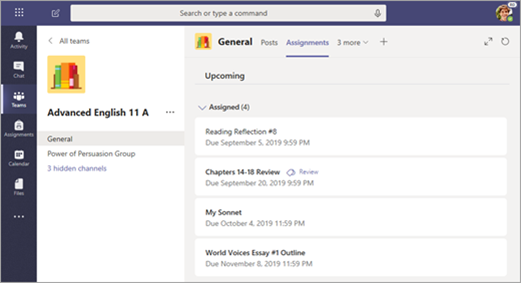 2. To view assignment details and turn in work, select the assignment.
3. Attach any required materials, and select Turn in.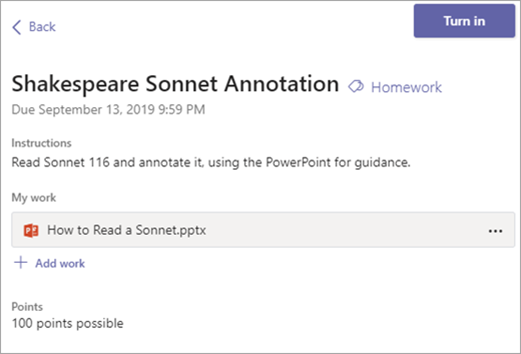 See your grades
To see grades for assignments your teacher has reviewed and sent back to you:
Select the Grades tab in the General channel.
All your assignments are listed here with the nearest due date at the top. View your status on each assignment as well as points you've received on graded work. Assignments without points will show as Returned after your teacher has reviewed them.
Use the arrows next to Due date and Assignment to sort your assignments.